Looks like I actually took these pics while I was cleaning them out.
So, once I had taken the doors off and set the shelves up for "display". I later decided that they looked a little cluttery and that I needed them to make more of a statement in the room. The below papers are some stenciled wallpaper I made and some black paper. I was trying to decided between stenciling and chalkboard paint. Love the gray stencil, but it ended up being too busy for these huge cuboards!
Hardware removed, puttying done, 1/2 the chalkboard paint up! The counter is the reality of doing projects like this….especially when the project is redoing cupboards!
For painting, I used liquid sandpaper, since the paint is probably from the 1940's and I didn't want to poison the kids with lead dust! Then I just added paint. I've scooted plates and bowls accross them already and they haven't scratched a bit.
Then my favorite part….adding the fun stuff!
Had to save some room for chalkboard usage.
Single cupboard shots.
I really do love them! Yea for open shleving!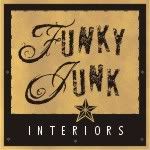 http://tatertotsandjello.blogspot.com/