Wow, does the title sound like this post is a little bit of everything, or what?! 
I guess it sort of is.
I am still waiting for a little paint and glue to dry, but basically, I'm finished with all of the NECESSARY DIY and CLEANING in order to put the house on the market! (insert a crowd screaming for rock stars in the background!)
Seriously, I VASTLY underestimated all I still had to do! I spent the last 2.5 weeks (started on July 5th) and worked 6 days a week for 10-12 hrs per day. I'm toast!
Tonight I watched a movie with the family and just relaxed….it was wonderful!
During this 2.5 weeks, I've developed an understanding that being "done" with a space in Katie's decorating land, and "done" enough to put a house on the market, are two different things, and that sometimes, you have to go with the latter!
So here are some house pictures that I will list with the house. 
Some of them are rooms I've haven't revealed (hence the "sneak-peek" in the title).
Some of them have projects that I still need to finish. (Keep that in mind when you see the green table in the basement). 
But for now, it's good enough!
These pictures are for the sale listing, so they don't have my blog name on the bottom, and they aren't as nicely edited as usual. They don't have to be….if you use even slightly edited pictures when you sell your house, you're doing WAY better than most! 
The Living Room –nope, no link on this one. I still haven't revealed it yet. I have no idea why the back corner looks florescent yellow. Oh well, it shows that there is a decent sized living room and a good flowing layout, and that's really the point of this pic. 
Downstairs. Another room where you have seen a zillion projects, but no room reveals. You have seen partial room reveals, but I'm obviously not finished with the whole thing! Or so the green table, (that is smack-dab in the middle of the room), is saying!  I had so many more plans….great plans! That white cabinet, I had really cool plans for it,…another light fixture….a painted table….the list goes on, but oh well, there are times in life we just have to settle. Or, on the other hand, this place may never sell, and in that case, you'll get to follow all the projects that I have in my head. 
Here is a pic showing the length of the room. So many more pillows and chair coverings I still would have done…..I just have gray fabric draped over those chairs, and really that bike pillow belongs upstairs. It's a picture prop here. 
Here's a peak at Chloe's room. I'll be showing more projects in here and revealing the room soon!
This post has been featured on: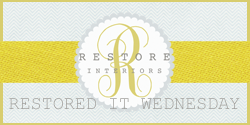 Posting to:

Mondays: 
The DIY Showoff Project Parade
Made by You Mondays
Embellishing Life Everyday
Just Something I whipped up Monday
The CSI project 
Menu Plan Monday 
C.R.A.F.T.
The Southern Institute 
Making the World Cuter
Thrify Décor Chick
Metamorphosis Monday
Sumo Sweet Stuff
Gunny Sack
Singing Three Little Birds
DIY Homes Sweet Home
Dittle Dattle
1929 Charmer
Everything Under the Moon
ModMix Monday
Sew Stylish
Sew Can Do
Everything Under the Moon
Manic Monday
Alderberry Hill
Between Naps on the Porch