This is a Sponsored post written by me on behalf of White Cloud for SocialSpark. All opinions are 100% mine.
How can it be time to buy school supplies? Wasn't it just May? Weren't we just getting out of school, and now we're thinking about what to buy to go back!?
Does the thought of sharpened pencils, new back-packs and school clothes shopping excite you, or does this seem like a charging burden that will land you in financial depletion? Either way, White Cloud is here to help!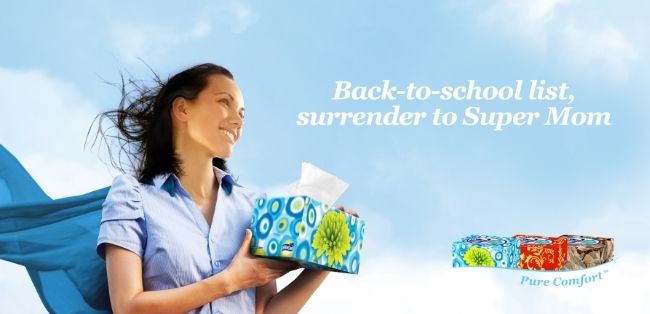 They know that even small discounts can add up to big savings, and that's why they are offering a coupon of $.75 for every Facial Tissue Multipack. You can purchase a three or six boxes of premium affordable tissue at one reasonable price.
You can even help make the difference in the life of a child by purchasing the limited edition White Cloud Facial Tissue Multipack limited edition, designed by kids at Children's Miracle Network Hospitals. White Cloud will make a donation to three CMN hospitals in the areas that sell the most boxes.
To answer my own question from the beginning of this post, I usual dread going shopping for school supplies! It seems overwhelming and the summers seem so care-free! Even though fall is my favorite season, it means schedules, getting up on time and a LOT more taxing kids around! I would probably procrastinate buying school supplies till the week before school started, when stores were sold out of most items. Luckily, my mom loves a good school supply sale and is buying the kids some of their supplies this week. I'll have to tell her about the White Cloud Facial Tissue page, where she can go to "Products and Special Offers", and then click on "Facial Tissue" to find the coupon.
If you're wondering where you can purchase While Cloud Products, you can check the White Cloud Store Locator. You can also hear about upcoming deals and promotions by liking the White Cloud Facebook Page, following the White Cloud Twitter Page and the White Cloud Pinterest Page.
Hopefully this helps boost your purchasing power a bit!
–Katie